It has come around so quick, this week has flown by but here is my What I ate wednesday : Porridge gate edition...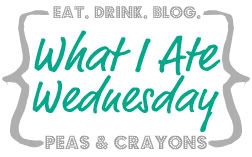 Woke up this morning feeling tired and lethargic, instantly scraped my ellipical cardio plans and decided to pick up harrys wieght and pump some iron, arrrrrrghhhh yeah.
Gunz a pumpin'
I have only in the past weak decided to start easing off on running and adding more strength routines and yoga into the mix. I can now do five push ups.... yes FIVE.
R.I.P
Breakfast was a bowl o oats (1/4 cup rice flakes +1/4 cup buckwheat + scoop of protein powder) and nut butter, topped with cranberries, jam and crunchy PB. Unfortunately i left it on my couch arm whilst fetching some more jam and came back to an empty bowl and a shih tzu hugging my spoon. Bad beebz!
But i cant be mad at that munchkin!
So scratch that....breakfast was a speedy bowl of cereal, protien powder and blueberries. no time to photograph.
O.O.T.D
I knew we were gonna have a day trip today so it was a casual outfit of the day...
Vinatge jumper from the US, Topshop skinny jeans, vintage back pack and my new Vans old schools...
For lunch I took my class on an outing to the beach. I grabbed a M&S Smoked Salmon, Spinach, Watercress and potato salad with obligitary bottle of diet cola... They opted for Mc donalds happy meals.
We walked along the sea front got ice creams then headed back to class for some intense games of hangman and pictionary.
This dude was guarding my front door this evening, the stubburn fellow just wouldnt be moved or shooed and kept shouting at me. After a good 10 minutes and a firey exhange of shrieks on both sides. the seagull finally moved on. I win.
DINNAH TIME!
Still morning the loss of this mornings porridge. a bowl of hot cereal had been on my mind all day so once I got in, i decided to finally have my oats and eat em...
Off back into the kitchen now to bake some GF chocolate cupakes!